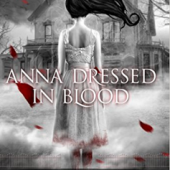 Cas Lowood has inherited an unusual vocation: He kills the dead.
So did his father before him, until he was gruesomely murdered by a ghost he sought to kill. Now, armed with his father's mysterious and deadly athame, Cas travels the country with his kitchen-witch mother and their spirit-sniffing cat. They follow legends and local lore, destroy the murderous dead, and keep pesky things like the future and friends at bay.
Searching for a ghost the locals call Anna Dressed in Blood, Cas expects the usual: track, hunt, kill. What he finds instead is a girl entangled in curses and rage, a ghost like he's never faced before. She still wears the dress she wore on the day of her brutal murder in 1958: once white, now stained red and dripping with blood. Since her death, Anna has killed any and every person who has dared to step into the deserted Victorian she used to call home.
Yet she spares Cas's life.
My Review
A very unique premise and a loveable main character make this book a must read on my list. I loved that the main character, ghosthunter Cas Lowood, is a boy! So many YA book have female protagonists. Cas is nothing the reader would expect from a boy his age. He is clearly good looking and could fall into the "popular" crowd but he's not a jock and he gravitates towards the nerdy outcasts. He also doesn't stay at any high school for more than a few months. He can't, he has to hunt down spooks who are causing serious problems (we are talking about deaths here) and set them free.
That's where the book starts. He arrives in Canada (yay!) to investigate a troublesome haunting. But soon he finds himself making friends and … developing feelings for the ghost? This is clearly different from his other "jobs."
I couldn't put this book down. Blake has done an excellent job. Highly recommend checking it out.
Buylink: Anna Dressed in Blood
Share



Kendare Blake
" target="_blank">



---