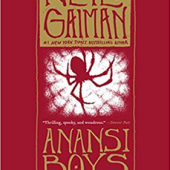 God is dead. Meet the kids.
Fat Charlie Nancy's normal life ended the moment his father dropped dead on a Florida karaoke stage. Charlie didn't know his dad was a god. And he never knew he had a brother. Now brother Spider is on his doorstep—about to make Fat Charlie's life more interesting . . . and a lot more dangerous.
My Review
I don't know why but I'd always though of Neil Gaiman as a young adult or children's author. But, of course, his books appeal to all level of audience. This is a reimagined story of Anansi the spider and his two sons.
I really loved this book. I listened to the Audible audiobook and the narration was fantastic. Sometimes you get a narrator who is so in character that you are swept away by the story. And that was the case with this production.
Along with his usual vivid storytelling and imaginings, this book is packed with likeable characters who are so different from one another that you don't even have a chance to get bored with any of them. The story is fast-paced and entertaining. Strongly recommend!
Buylink: https://www.amazon.ca/Anansi-Boys-Novel-Neil-Gaiman/dp/0061342394/
Share



Neil Gaiman
" target="_blank">



---