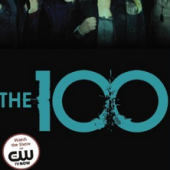 Ever since a devastating nuclear war, humanity has lived on spaceships far above Earth's radioactive surface. Now, one hundred juvenile delinquents — considered expendable by society — are being sent on a dangerous mission: to recolonize the planet. It could be their second chance at life…or it could be a suicide mission.
CLARKE was arrested for treason, though she's haunted by the memory of what she really did. WELLS, the chancellor's son, came to Earth for the girl he loves — but will she ever forgive him? Reckless BELLAMY fought his way onto the transport pod to protect his sister, the other half of the only pair of siblings in the universe. And GLASS managed to escape back onto the ship, only to find that life there is just as dangerous as she feared it would be on Earth.
Confronted with a savage land and haunted by secrets from their pasts, the hundred must fight to survive. They were never meant to be heroes, but they may be mankind's last hope.
My Review
My youngest son got me watching the television show adaptation of this book and it didn't take long before I was hooked. My 17-year old daughter saw me watching it and said it was good but the book was better. I said "There's a book?"
Needless to say I binge watched (thank you, Netflix) the show but more quickly binge read the entire book series. I do prefer the book to the television series because, as is so often the case with books, it is much richer than the screen version.
I really enjoy Dystopian novels. Kass Morgan did not disappointment with this series. Anyone who reads my reviews knows that when I love a book, I can't put it down. And that's how I was with The 100 (and with Book 2 and 3 in the series as well).
I think the book may be underrated because the television series is so popular. If you've only watched the tv show, do yourself a favour and pick up the book. You'll find a level of character development, plot twists and depth of story so much more rewarding that you get from the screen version. Highly recommended for any Dystopian lovers out there!
Share



Kass Morgan
" target="_blank">



---