What is your favourite Christmas memory? Is there one that really stands out for you?
I'm lucky to have so many great Christmas memories I don't know if I could just pinpoint one of them.
I'm very traditional. I like all the Christmas events that I grew up with and others that we've picked up along the way. Trimming the tree with the family, hosting an open house with friends, having a big Christmas dinner with family. A few happy memories from Christmases past include:
The Grinch Who Stole Christmas (as interpreted by 3 children under the age of 7).
When my youngest was 1, I got this crazy idea in my head that it would be cool to put on our own Christmas play. The kids decided on the Dr. Seuss story. My eldest son would be the main character (without the green face paint – he wasn't into that), my daughter (who was almost 5 at the time) decided to be the narrator, Cindy Lou Who and any other side character in the play and my youngest got the job of being Max-the-dog. And we were serious about this project. The kids worked on painting a set and getting costumes for weeks. Looking back I have no idea where I got the energy but I remember the kids being so excited and the grandparents being the perfect audience after Christmas dinner. Sadly, I have NO pictures or video of the memory … but maybe it's better that way. 😉
Christmas in Hawaii
The first time we took our family to Maui it was right before Christmas. We flew home on a late night flight on Christmas Eve! Needless to say that Christmas was exhausting! So the next time we went in December, we decided to stay there for the holidays and have a Maui Christmas. We did that two different times and, I have to admit, it was kind of weird. Being a traditional person, I love having a really traditional Christmas. And since I live in Canada, and we typically have cooler weather (if not snow), it didn't even feel like Christmas. So would I go to Maui again? OF COURSE! But I'd go in January or February when it's grey and cold at home and a tropical holiday is exactly what the doctor ordered.
Visiting Santa
When my kids were young we would go visit Santa at the mall and get a family picture. It was a BIG deal. Except … my daughter hated Santa. So we have a montage of photos of Caitie just screaming when we forced her to sit with Jolly Old St. Nick – I think those are my favourite Christmas pictures.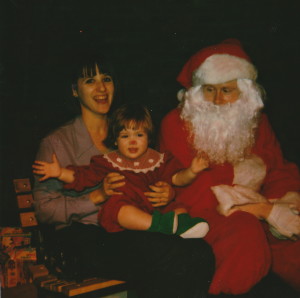 Good times! Haha!
What are your favourite Christmas memories? Share them and check out others at the Reading and Things 12 Days of Christmas event on Facebook.
And if you're looking for an awesome Christmas gift for a pre-teen or a teen in your life, check out my Marked Ones series. For sale until December 18th at Ink Smith.