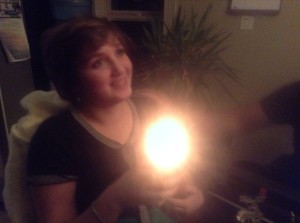 A few days ago, Cait celebrated her 16th birthday. We had a quiet day, a bit of shopping and a sushi lunch followed by a manicure and visit with her grandpa. She didn't want a cake – instead she bought a box of Dilly bars at Dairy Queen and shared them with her brothers and dad.
Today she returned to school. It's been 13 days since her last seizure. She had 17 seizures in December and an allergic reaction to a new medication. Currently she's medication free and she's decided that's how she would like to stay. As a parent I'm conflicted. I do understand that she doesn't want the side effects of the meds but at the same time I have to worry about her safety when she's having seizures. For now we wait as the doctors are still deciding what kind of medication to try next and she's also waiting for an EEG.
For the most part Cait is optimistic about her disorder. She's an advocate and doesn't complain much. But the last few weeks have been pretty hard. And today I came home to find her in tears. "What's wrong?" I asked in concern. She looked at me and said, "A whole bunch of people at school wished me a happy birthday." I was confused, wasn't that a good thing? "Then they asked if I was going to get my driver's license." She shrugged and wiped away the tears. "I just told them I preferred to take public transit." A moment of silence and neither of us voiced the words.
It's not fair.
It isn't.
She didn't want to talk about it anymore after that. And I did what I have to do as a parent and let her be. Coming to terms with her epilepsy isn't easy for any of us. Above all else, Cait doesn't want people to feel sorry for her. She reminds us daily that there are others far worse off than she is, wallowing in self pity is a waste of energy, especially when one could be making a difference in this world. But when there are small cracks in her resolve, when the pain creeps through, it breaks my hearts. Then she patches it up and carries on with a determination that continues to surprise me.