As a parent I think one of the toughest things is letting go. Regardless of any health issues our children have, we always want our kids to be safe and happy. When your child has an unpredictable disorder that could at any moment cause them to lose consciousness, it's hard to let go.
For me, this struggle has been mitigated by the fact that I have a very strong willed daughter. Cait has always been an extremely loud advocate for herself whenever I've hesitated on letting her do something because of her Epilepsy. She is lucky because she's able to articulate why I should let her try anything and everything!
Do I ever say no? Of course, I do. There are obvious things she just can't risk doing (sky diving and scuba diving come to mind – although she has made arguments for skydiving tandem she hasn't pushed hard for that one yet). There are some risks I prefer that she doesn't take. But overall we've let her lead as normal a life as possible.
In the beginning it was really hard. I used to worry when she did the most mundane thing, like climb to the top of the monkey bars at school (what if she had a seizure up there?!). Cait wasn't really good at listening to her body and she'd ignore the start of an aura and end up in a full clonic tonic event. It was hard not to lie awake at night, checking on her and worrying.
Does that make it get easier as they get older? I'd like to say yes but I think the more honest answer is no. I'm always thinking of the worse possible outcome. But Cait doesn't. She fights for her quality of life and is able to achieve far more than I ever expect her to. As she becomes more and more independent, I have to back off more and more and I'm not going to lie, it's tough. Next year Cait plans to attend university far from home and I expect I will be a mess worrying about it and missing her.
Here are a few of the challenges we've tackled and how Cait's been able to do what she wants successfully. It's not always easy but letting her try is what makes life interesting.
Water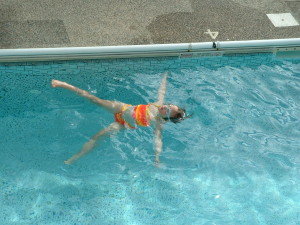 Water babies. From Day 1 Cait has loved the water. She was in the pool for the first time at less than 2 weeks old. But drowning deaths in people with Epilepsy is a reality.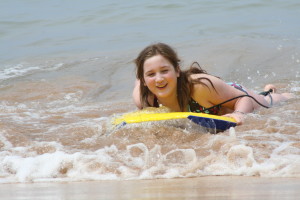 Let your child experience their love of the water in safe ways. Cait does it all – even boogie boarding in Hawaii. But always with a buddy and never alone.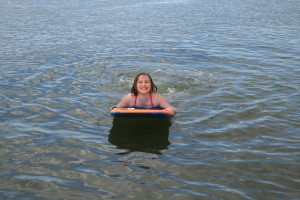 Her first neurologist said she can swim as long as she's never far from shore (depth of water isn't as much of a concern as the ability to get to her quickly).
Sports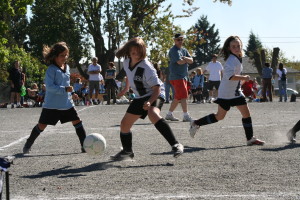 Cait has always loved sports. And usually sports that have flying projectiles of some kind. As a mum I've worried about a blow to the head setting off a seizure. But physical activity is so important to well being, especially for those with Epilepsy.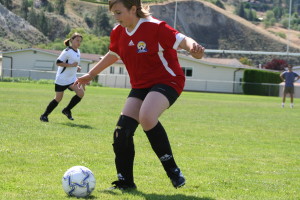 Ironically, it wasn't Cait's epilepsy that forced her to quit soccer several years ago but her knee.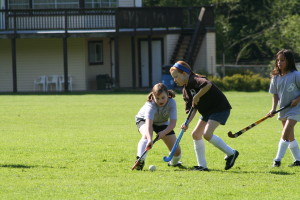 Cait started field hockey in Kindergarten, just after being diagnosed with Epilepsy. She had to sit on the bench when she became overheated but other than that, her disorder never stopped her. She quit playing in 4th Grade because we moved to a town that didn't have a league. But now in her Grade 12 year, she's started playing again!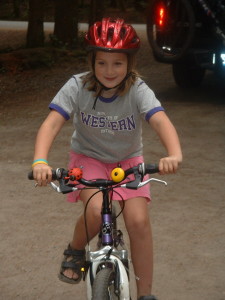 Biking means freedom to a lot of kids. Cait started mountain biking very young, joining her school Mtn Bike club in first grade. When she turned 12 she wanted to bike around town with her friends. I was worried (even with her wearing a helmet) – so we got her a cell phone for emergencies rather than keep her home.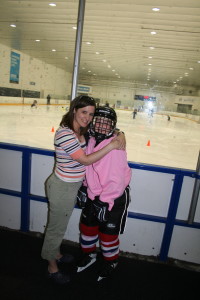 We come from a family of hockey players (her dad was drafted by the Winnipeg Jets in the early '80s) so Cait saw no reason not to play, herself. She was the only girl on her team when she started (and insisted on wearing a pink jersey).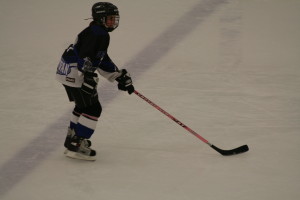 She played competitive hockey until her knee forced her to give it up. But she still has her pink stick.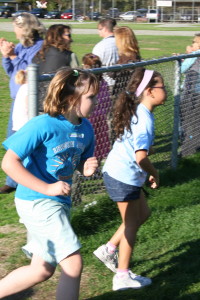 Running was tough for Cait because becoming overheated is a trigger for her seizures and nothing seemed to overheat her like running. But she still joined x-country. I never missed a meet (just in case). She has just recently started running again (on her own this time!).
Travel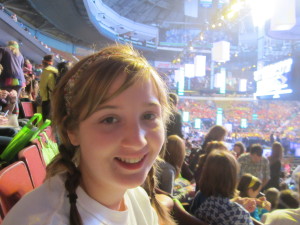 In middle school Cait had the opportunity to travel to Vancouver with her class for We Day. I was worried she wouldn't get enough sleep and would have an episode but her medication was working well at this point and she did just fine (even remembered to take her pills!).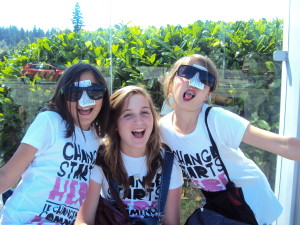 The first time Cait went on a trip without family was to Take Action Academy with Me to We. She was there for a week and their policy was no phones (except for emergencies). I was worried all week but when I picked her up she was brimming with excitement, new friends and enthusiasm for making change in the world.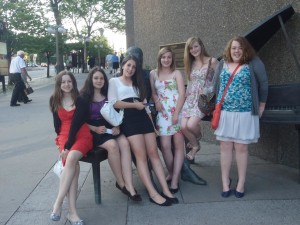 In Grade 8, Cait flew to Ottawa on a school band trip. Her big brother was on the trip so I didn't worry (as much). She stayed with a billet family and they were great taking the time to educate themselves on Epilepsy and what to do in case of an event.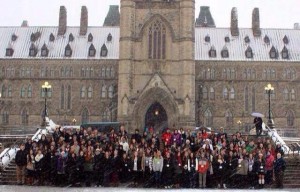 Last year Cait was one of 12 students from BC chosen to go to a Mental Health Summit in Ottawa. The timing was bad for this as, due to other commitments, Cait flew to Ottawa in the middle of the night and went on a full day of activities with only 3 hours sleep. The first night she called me in tears suffering from a severe anxiety attack. But she was at the right place for that – there was a mental health nurse on call. Once she got some sleep, she had an amazing week.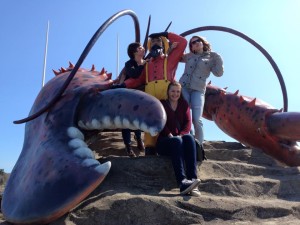 This last spring Cait went on another band trip with her school to New Brunswick. Her older brother had graduated so she was just with her classmates and teachers. But she had her phone. We had quite a large phone bill at the end of the trip – this was her toughest trip as, despite having an amazing billet family (the mom was a nurse) and a great room-mate, she didn't enjoy New Brunswick as much as she'd hoped to. Still she made some amazing friends on this adventure.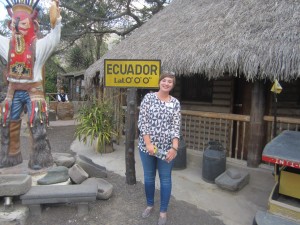 This summer Cait went on her biggest trip yet: a Me to We trip to Ecuador & the Amazon. She was gone for just over 2 weeks and had no cell phone access for the entire trip. It was horrible … for me! For Cait it was wonderful. At the start she knew no one else on the trip but by the end of the 2 weeks she said she'd made "soul-mate" friends. She told her room-mates about her Epilepsy and what to do "just in case" and they were all super cool with it. I've been told I better get used to it – she has been bitten by the travel bug.
Driving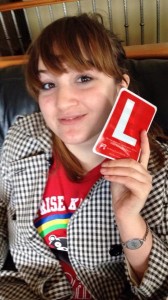 Getting your driver's license is a huge milestone for anyone with epilepsy. Cait got hers last December (11 months after her 16th birthday as her neurologist would not approve it before then). She was thrilled. I'm nervous but in BC she needs to have an adult with her driving for the next few months anyway. And she's been very responsible – not driving at all when she feels at all under the weather. And having her license has come with an added bonus: she knows that if she has a seizure she will lose her license for a minimum of six months. That means she's even more motivated to take care of herself, eat right, get enough sleep and reduce her stress so that she can stay seizure free!
Work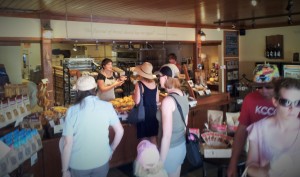 This summer Cait landed a paid job at True Grain Bread in Summerland. And she loves it. Previously she was a summer intern for the Heart and Stoke Foundation but that was an online job so having to get up and get herself to work every day has been a huge learning experience. I have to admit I had my doubts as to whether she could do it or not but before being hired on staff, she did her Work Experience at school at the bakery. And she did better than any of us expected. In addition, Cait loves her job – she finds it's a wonderful change of pace interacting with the other employees and customers and in many ways is a healthy stress release for her.
Public Speaking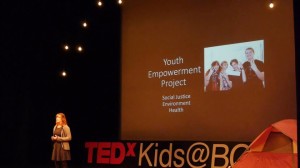 Cait's first large public speaking gig was a TedX Talk (hey, she likes to go big). I was incredibly nervous for her. Not only was she speaking in front of a huge crowd and being recorded, she insisted on memorizing her entire talk. She walked out on stage with no cue cards. Her brain sometimes stalls and I just held my breath for the entire talk. But she did an amazing job – even when the mic cut out (not her fault) she didn't falter at all but just continued speaking to her audience. Huge proud mama moment!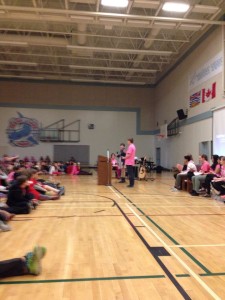 Since her TedTalk and Me to We award Cait has been invited to give a number of talks to different groups. Here she is with Dan at Skaha Lake Middle School's Mini We Day. Again she insists on memorizing her parts and I hold my breath but she remembers what she wants to say no problem.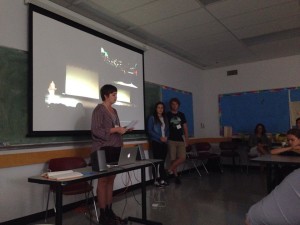 She has notes! Cait wrote and performed a slam poem about her struggles with anxiety. She generally does have notes for her poetry because she feels the words must be shared the way she wrote them (I think she wings it on her presentations).
Volunteer Work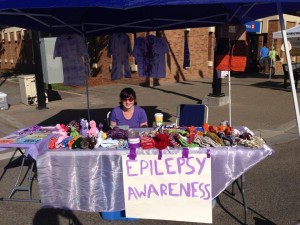 When Cait first started volunteering and fundraising at markets I didn't know how she would do. Handling money and giving correct change was a huge problem for her in the beginning (Math being her brain's downfall). In addition it gets hot at the markets and heat is a trigger. Her friends took to bringing spray bottles with them and spritzing Cait whenever she started to get overheated. And although I admit that I stayed with her for almost every market, she did great. And she met so many people whose lives had been affect by Epilepsy. It really helped her see that she's not alone with her disorder.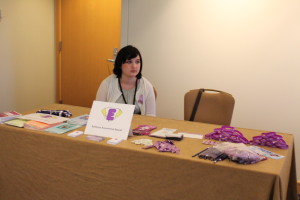 Cait's first conference table at a big conference. Here she is at the Epilepsy Pipeline Conference in San Francisco. It was a long tiring day as she was running the table on her own. It was also tough because she was on the Keto Diet then and even though it was an epilepsy conference, there were few Keto options for her to eat. She left tired and hungry at the end of the day (but with a ton of new contacts).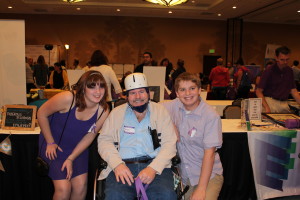 Epilepsy Awareness Day at Disneyland was the most emotional Epilepsy event Cait has ever gone to. She met so many amazing people she already knew online (like Robert here) but she also was surprised at how the many stories impacted her emotionally. It was a great event but Cait had more than a few tears mixed in with the laughter and she had to use the respite area when a headache threatened to pull her under.
Recognition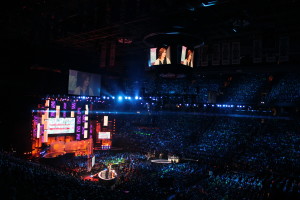 In 2014 Cait won the Me to We Youth in Action award for her Epilepsy advocacy. As a result we flew to Toronto and Cait was presented with her award in front of 30,000 youth. The event was stressful and exciting but I worried about seizures for the whole time. On top of it all, Cait had a bad cold and by the end of the day felt very ill and we had to be seated early at the After Party. Still it was a trip to be remembered.
Performances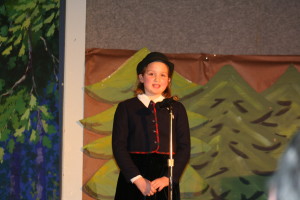 Cait's first "starring" role was when she was cast as Gretal in her school's production of Hansel & Gretel. She rocked her role and loved being in the limelight but multiple seizures and side effects of meds caused her to stop her acting career by the end of elementary school.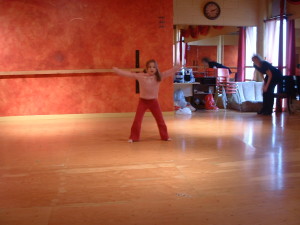 As if her schedule wasn't busy enough with her multiple team sports, Cait took ballet, hiphop, Irish dance and capoeira. Her meds tired her out but she was always on the go anyway. The key was early bedtimes.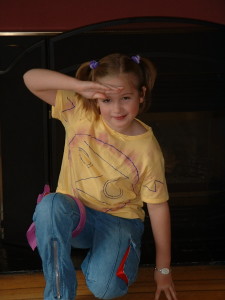 This was the day of her hip hop performance and she was running a 40 (104) degree temperature. Heat and illness both being triggers I wanted to keep Cait out of the performance but she was adamant she go. Her dance teacher was nervous about putting her on stage but Cait said she could do it and she sure did! She saved her seizures for later that night.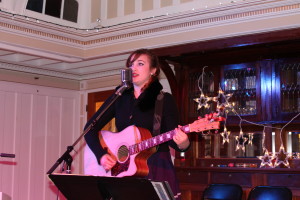 This was Cait's first ever solo performance. She killed it. I embarrassed her thoroughly by sitting in the front row with her big brother and recording the whole thing (hey, that's a mum's job, isn't it?)!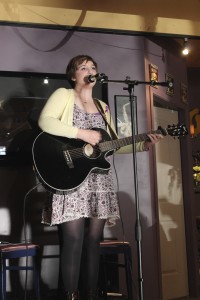 Music is such an important part of Cait's life. In March of this year she used her passion to organize a Purple Day open mic fundraiser. The response was amazing and she spoke candidly about her struggles with Epilepsy in front of the hometown crowd. This had been a busy day because she had been a guest at a big conference earlier in the day and she was on Day 2 of a bad migraine. At 9 o'clock after all the other performers had left, Cait was still sitting on stage strumming away and looking like she was going to pass out and I shut the event down. She still has to learn when to say she's had enough.
Last Words
My advice is to encourage your child to do all things he or she wants to. You will worry and think of the "what if" scenarios but that's your job as a parent. You'll be surprised at how high your child with Epilepsy can fly if you just let them try!