For my entire life I have been a very active, outdoorsy person. This is particularly true when it comes to my married life and family. When Bob and I met, one of our first dates was hiking the trails at the Chief in Squamish, BC, soon followed by a day trip to Garabaldi Lake.
We both wanted to start a family as soon as possible after we married and we never let having a family stop us from enjoying the great outdoors. We just adapted and introduced our growing family to the joys of hiking, camping, and being active.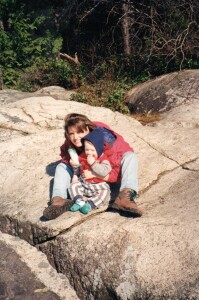 As our children grew into young adults, hiking gave me time to visit with them and hear about their hopes and dreams while we were still being active. In fact, hiking in the woods is a constant theme in my memories of my children's growing up years.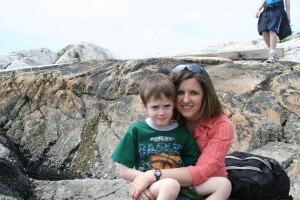 So when I became sick in 2018, the hardest part was for me to accept was how being chronically ill would affect my ability to hike, bike, and camp. Hiking, in particular, was something that I really enjoyed both at home in the Okanagan Valley of British Columbia and on our trips to Hawaii.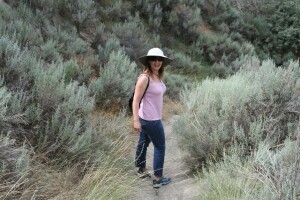 For the long months that I was undiagnosed (and, for the most part, untreated) my ability to hike and enjoy my regular routine eroded away. It was frustrating but I was also in too much pain and too tired to focus on it for any length of time. I also started to pack on the pounds due to my inactivity, which just made the pain and fatigue even worse.
One of the things my rheumatologist told me was that I need to lost 10lbs. I laughed and told him I want to lose 40 (because that's about how much I've gained). I know talking about weight gain is a touchy subject for most of us. But with psoriatic arthritis every extra pound is going to doubly impact your pain levels along with your ability to be active. So I came home from my first appointment determined to drop the weight and to find ways to be active.
I think that is probably the most difficult thing. You want to be more active but it is hard to do so when all your joints ache and every two weeks or so you are hit with a flare that feels like the worse flu bug you've ever experienced. So I started researching aids I can get to help me be more active.
First, I got some new hiking shoes with more support. My old runners were four years overdue (I know, terrible) and I had no support in them which just meant I was even more unstable on my feet. Then I got Bob to find the hiking poles he and Cait had used on their big mountaineering trip two years ago. I had been reluctant to use any kind of aid while hiking but I came close to falling too many times on my walks around the vineyard that I had started to walk incredibly slowly. I've been walking with a limp for so long I don't even notice it anymore. It was a physiotherapist who saw me for a consult before my surgery last summer that pointed out the limp. None of my doctor's really were too bothered about it but I know the limp has become worse and with it I find it much harder to stay steady on my feet. With the poles I feel much more confident in my ability to stay upright.
I also ordered a pair of arthritis gloves (fingerless compression gloves) to help with my finger pain. When I didn't have a diagnosis, I had no idea what I could do to help myself but joining the psoriatic arthritis group on Facebook put me onto the gloves and they have made it a lot easier to type and also to hold onto those walking poles without dropping them. The look a bit silly but I ordered a pair in black so I can keep my cool factor intact.
Yesterday Cait and I went for our first impromptu hike and I loved it so much that we planned a more serious hike today! It felt so good to be out in the woods again that I want to make this a daily habit (especially since I live in paradise in the Okanagan Valley).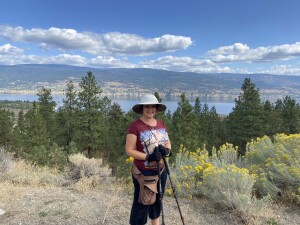 My next plan to is to get myself an electric bike. My friend let me try hers this summer and I loved feeling a tiny bit like my old self as I rode around our vineyard. Stay tuned for a future post on my return to mountain biking in a few weeks.
Oh, and as for the weight loss, I have a long term goal that I want to hit next spring. In the meantime, I've signed up for Noom and two weeks in, I really like the program. I've already lost 4lbs and it is motivating to see the numbers go down on the scale. I will be writing about my weight loss journey as well. For me it isn't about looking a certain way but about being able to do as much as I can and to give my joints as much help as they need. I'm reinventing my approach to life and learning as I go but it feels great to have some kind of direction on this journey.