For those of you who only know me as Cathi Shaw the author, you may have wondered what happened to me. I've been offline and neglecting this website (along with many of my writing projects) for 19 months now.
I'm so sorry of those of you who still follow me! I've been very ill with a mystery illness for that length of time. I became so unwell that I was unable to work and had to go on leave from my teaching job. I haven't been able to write for any length of time as I have been having flare ups that hit me like a bad flu bug and knock me right off my feet.
Just in the last month I have seen a rheumatologist and have been diagnosed with an inflammatory autoimmune disorder and started treatment. The most likely diagnosis is psoriatic arthritis but my rheumatologist said an autoimmune diagnosis is never 100% for certain. So far I'm on the second kind of drug therapy he recommended and am still having flare ups but it is such a relief to have a specialist who is dedicated to helping me through this to a better day-to-day existence.
I will be blogging a bit about my journey with the hopes that it will be helpful to some of you and also therapeutic to me. I am not usually the patient in our family. For years I was the one who looked after everyone else. And I have to say I am not a very good patient. I have learned to slow down and try to accept that I can't do all the things I used to do. I'm still adjusting to this new normal and trying to find ways to fit all the things I love into my life.
I'll write more soon, but for now I will leave on a positive note with a photos of what has kept me motivated in the last few weeks.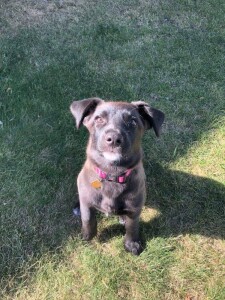 This is Lucy and she joins our 2-year old lab, Toba, and 5-year old cats, Indie & Bellamy. We got her from PAWS It Forward dog rescue and she has our entire family wrapped around her paws. And she knows who her mama is, which has been extra motivating for me.